The Marrakech Short Film Festival
Born from the crossroads of trade routes, Marrakech has been a hub of storytelling and creativity for hundreds of years. Abounding with iconic shooting locations, from the mystical Medina to its palm-filled hinterland, cinema is a crucial thread woven into the city's cultural fabric. The advent of COVID19 and the resulting closure of cinemas has left local audiences with a thirst for the therapeutic pleasure of film-going. Founded during the pandemic, the MARRAKECsFF's mission was to slowly and safely reopen Marrakech's ability to savoure the seventh art. We envision a weeklong open air  festival with a daily audience, showcasing short films by emerging and  established  directors. The two hour ticketed events will include the screening of works selected by our jury, whose age, gender and ethnic diversity will reflect the inclusivity of Marrakech's cultural scene.
The short form will promote emerging filmmakers' first cinematic outputs while leaving ample time for audience discussions.
Though open to foreign submissions, our festival will focus on Moroccan talent, embodying the crucial lesson the current crisis has taught us about consuming local products, which includes visual culture.
In an era where creatives across the globe are being told to abandon the pursuit of their dreams, we say that there has never been a greater need for them to keep on fighting through their art, and we are determined to create a platform to promote extraordinary cinematic talent. Our mission is to create a bridge between Marrakech and the world of short film. We want to showcase local talent while sharing the work of international filmmakers. To create a platform for the short film industry in Marrakech, Morocco and abroad and  to highlight the heritage of abandoned cinema halls Marrakech /Morocco.
We envision a productive future in which we would scale up, featuring filmmakers from across the African continent and the world, putting together production and master class programs in the field. We aim to create an intimate, captivating experience for our audience and the industry of short film, with a focus on quality that will permeate our festival for years to come.
A unique experience in the region, the Marrakech Short Film Festival is one of the fewest open air cinema festival founded by a woman. (Ramia Beladel).
A week-long outdoor festival, presenting a diverse selection of short films of Moroccan filmmakers, a guest country program and an international selection. Our mission is to create a bridge between Marrakech and the world of short film. We want to showcase local talent while sharing the work of international filmmakers. To create a platform for the short film industry in Marrakech, Morocco and abroad and  to highlight the heritage of abandoned cinema halls Marrakech /Morocco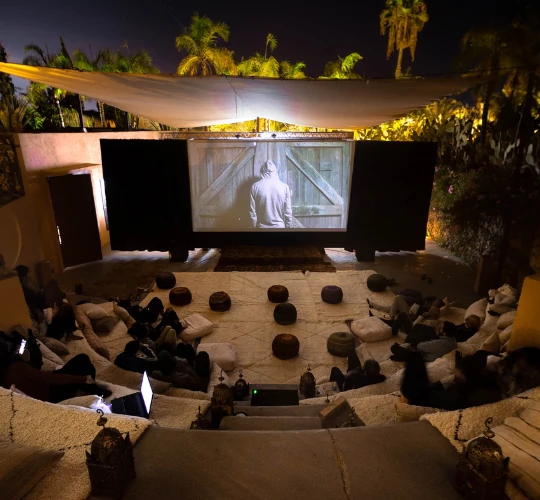 THE SOURCE HOTEL  – VENUE